WHAT YOU CAN DO AS A BUSINESS
As a business there are a variety of ways you can positively contribute to the impact on the local and global environment.
The majority of items that volunteers pick up from our local beaches include single use plastic items such as straws, stirrers, plastic bottles, plastic bags and condiment sachets.
By ensuring that suitable, sustainable alternatives are readily available to your customers, you will be helping to bring about the change in behaviour that our society needs.
Your local Surfers Against Sewage Plastic Free Coastlines Community Leader can help you become plastic free by following these simple steps:
Eliminate, or find alternatives, for three single use plastic items within your business

Consider how you many be able to eliminate or replace all other single use items

Once your business has been approved as 'plastic free', you will be able to promote yourselves as an SAS Plastic Free Business and display your certificate and window sticker.
IN THE TOURIST TRADE? HERE'S THE CAMPAIGN FOR YOU
Our Plastic Free Holiday Project aims to capture the minds of tourists visiting North Devon in order to raise awareness of the plastic issue, reduce the amount of plastic consumed, clear waste plastic from the environment and ensure that is it recycled or disposed of properly. We have created two sources of information for accommodation providers to distribute to their customers: A PDF with information on what visitors to the area should know and bring when visiting. Plus leaflets to place in the accommodation which contains information on what Plastic Free North Devon are working towards, and what tourists can do to help
If you are interested in being part of this project then please get in touch by emailing visitors@plasticfreenorthdevon.org
BUSINESSES SUPPORTING PLASTIC FREE NORTH DEVON

Coast & Moor coffee is nestled in and surrounded by rugged coastline and dramatic moors producing some of the areas most outstanding natural beauty. This has made them determined to support sustainability in all aspects of coffee production. To this end all of their branded takeaway cups & lids are 100% biodegradable and compostable, and they also pledge 10p from every kilo of Beans to fund our forever flourishing projects.
THANK YOU!
Boston Tea Party is a cafe with ethics at its very core. Everything they buy is scrutinised to ensure it's the best choice for them, their customers and the environment. They have made some fantastic decisions such as banning takeaway coffee cups, running all their cafes on renewable energy, using anaerobic digestion to dispose of food waste and donating any leftover edible food to the homeless at the end of the day. These guys strive to go above and beyond in everything that they do and that's why we are so proud to receive a 10p donation from every takeaway coffee sold at their Barnstaple branch. Thank you for leading by example and showing others that putting the planet first and running a successful business does work.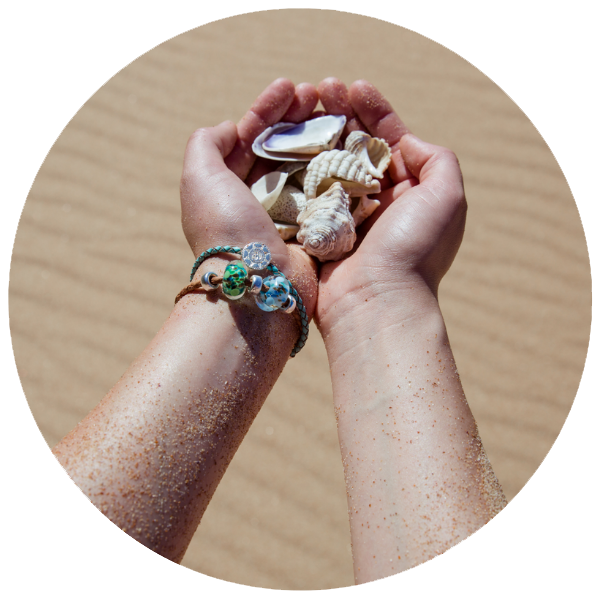 Nalu are a local (North Devon) jewellery brand whose designs are inspired by the surrounding coastlines and oceans. Protecting the coastal environment is a cause close to their hearts and they would like to support in any way they can. Rae Davies, Nalu Owner says 'We are thrilled to have been able to work closely with PFND to produce a very special bead for their charity. We donate £2 from each sale of these beads to them so they can continue to support and educate our local community on sustainable plastic use. We are so proud to support you PFND!'. If you would like to purchase this bead click here
HERE ARE SOME OF OUR PLASTIC FREE CHAMPIONS